International Dating Blog
Join the AFA team as they provide expert insight into the world of international dating, travel and marriage.
Backed by decades of experience in assisting men and women through matchmaking, John Adams and his team continue to provide value through sharing their first hand experiences.
Cohabitation: Couples Living Together BEFORE Marriage SURVIVAL GUIDE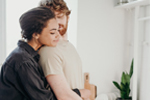 See More »
Living together before marriage is called cohabitation. It is the step taken by couples who live together under the same roof in hopes of strengthening the amount of feelings shared.